Irish companies are learning that an effective logo design is vital to their business.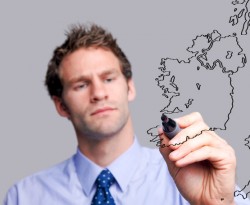 If you're in business then you need to be able to stand out from your competition and be identified when your customer needs your product or service. The best way to do this is with a recognisable brand, logo or corporate identity. Your logo is not just your mark or signature, your logo is a visual representation of everything your company stands for. An unprofessional or outdated corporate image both on and offline reflects an unprofessional business in the eyes of your potential customers.
Right now you have to ask yourself, has your logo design become dated or taken a back seat to other visual images that represent your company's identity? When you survey your customers and examine your competition, is there confusion about what you do or stand for? A good logo design should communicate something about the nature of your business, product or service. So if this vital design component is out of step with your message and customers, it's time to bring it up to date.
Talk to us about your logo. We will work with you to brainstorm the message you wish to communicate. We will identify and create the personality of your business whether it is serious, trendy, friendly…we will create the visuals to get you noticed and admired.
Your logo will be created to work well on any range of media. It will be scalable, easy to produce, memorable and distinctive with a colour scheme and font selection that will be matched to the preferences of your target audience.
If your logo is already well known but outdated, we will update it in a way the will not alienate or confuse your existing customers and make it more viable for long term use by avoiding current trends and styles.
Talk to us and reveal your true identity.