The need to reserve corporate identity on the World Wide Web is becoming more important as public awareness of the Internet increases. An Internet domain name (e.g. yourname.ie or yourname.com) allows your email and web site to be addressed using your company name.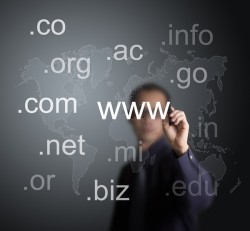 Even if you are not planning to set up a web site yet, we strongly advise you register your domain name. Simply, if you don't register your name, maybe someone else will.
Domain name registration is inexpensive and if you are planning an Internet presence now or in the future, we can hold your names for ever, protecting against someone else registering it for their company. You will want to include this URL on any and all literature, advertising and correspondence from your company. You can also register more than one domain name and point it to your website.
You will want a professional URL for your website, it should be easy to remember and it should be easy to type. The longer it is, the harder it will be to type. Short and sweet is best.
Domain names have also become very important to your search engine rankings as search engines will rank a domain name with related keywords higher than those without.  Registering a domain name containing generic keywords related to your products and services is easier for people to remember, but it will also have greater resale value if you should choose to sell your business and/or website in the future.
Finding a good keyword rich domain name that's not already registered can be quite a challenge; particularly if generic words are involved, but it's well worth the effort. We are experts in finding keyword rich domains.
We can provide total support to get your site up and running and ongoing support afterwards. If you do not already have a domain name, then we can research and find suitable domain names for you.